Get 10% Discount on Everything
Use Coupon :
BPWINTR10

Auto Delivery & Save More
Get 5% Off Extra*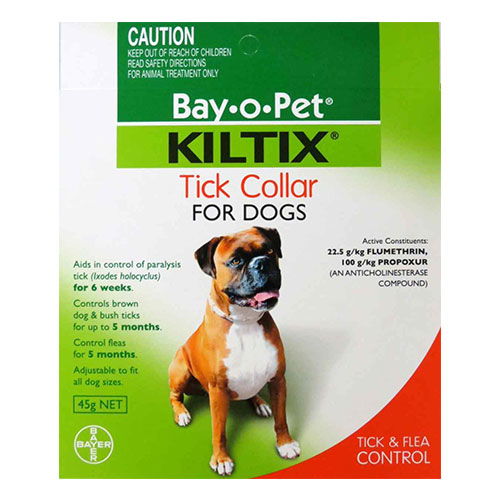 Bay-O-Pet Kiltix Collar for Dogs
←
Save 5% on your Auto Delivery Order!
Auto Delivery & Save 5%

Bay-O-Pet Kiltix Collar for Dogs 48 cms
Bay-O-Pet Kiltix Collar
Pet

Dog

Treatment For

Flea and Tick

Health Benefits

Kills and Repel External Parasites

Product Type

Collar

Parasites Covered

Brown Dog Ticks, Bush Ticks, Paralysis Ticks, and Fleas

Protects For

5 Months

Recommended For

Dogs and Puppies older than 3 Months

Key Ingredients

Flumethrin, Propoxur
Bay-O-Pet Kiltix Flea and Tick Collar for Dogs
Easy to use, Bay-O-Pet Kiltix collar is manufactured by Bayer. This collar is designed to protect puppies older than 3 months and adult dogs. The light weightiness of this collar makes it comfortable for its regular use. It is an effective treatment for eliminating fleas and ticks found in dogs. Choosing Bay-O-Pet Kiltix collar for your canine ensures safety from external parasites for 5 long months. Although it is water repellant, it is recommended to remove the collar while bathing your canine.
How it works?
Kiltix collar is made with two active ingredients, Flumethrin and Propoxur. These ingredients kill fleas and ticks efficiently for 5 months. It also provides protection against pest induced diseases. Apart from destroying external parasites, Kiltix also repels them. The contents of this collar use "hot foot" mechanism and does not allow ticks to get attached to the canine's body. Made with high quality plastic resin, this collar with 45 gm of weight and 66 cm length is perfect for all dogs.
Ingredients: Flumethrin, Propoxur
Manufacturer: Bayer
Make your pet comfortable. Make sure he is calm and steady.
Buckle up the collar in such a way that there is a gap of two fingers between the collar and the pet's neck.
Cut the remaining part and dispose it.
Comb your canine's body with flea comb to avoid dander
Do not use Kiltix collar on canines younger than 12 weeks of age.
Make sure the collar and your pet's neck has a distance of at least 2 fingers.
Avoid using it along with other flea treatment.
Do not use it on pets other than dogs.
Remove the collar while your pooch is in contact with water for long lasting effects.
Do not remove for efficient results.
Contraindications
Do not use Bay-o-Pet Kiltix collar on sick canines without consulting your vet.
Not recommended for pets allergic to its components.
Easy to use treatment
Treats fleas and ticks for 5 months continuously
Efficient and economical parasite control
Kills and prevents all major types of ticks and diseases induced by them
Repels ticks
Long lasting treatment
Mess-free mode of application
Shop For Bay-O-Pet Kiltix Collar Packs

© 2023 BudgetPetWorld.com - All Rights Reserved